Chapter 1
HISTORY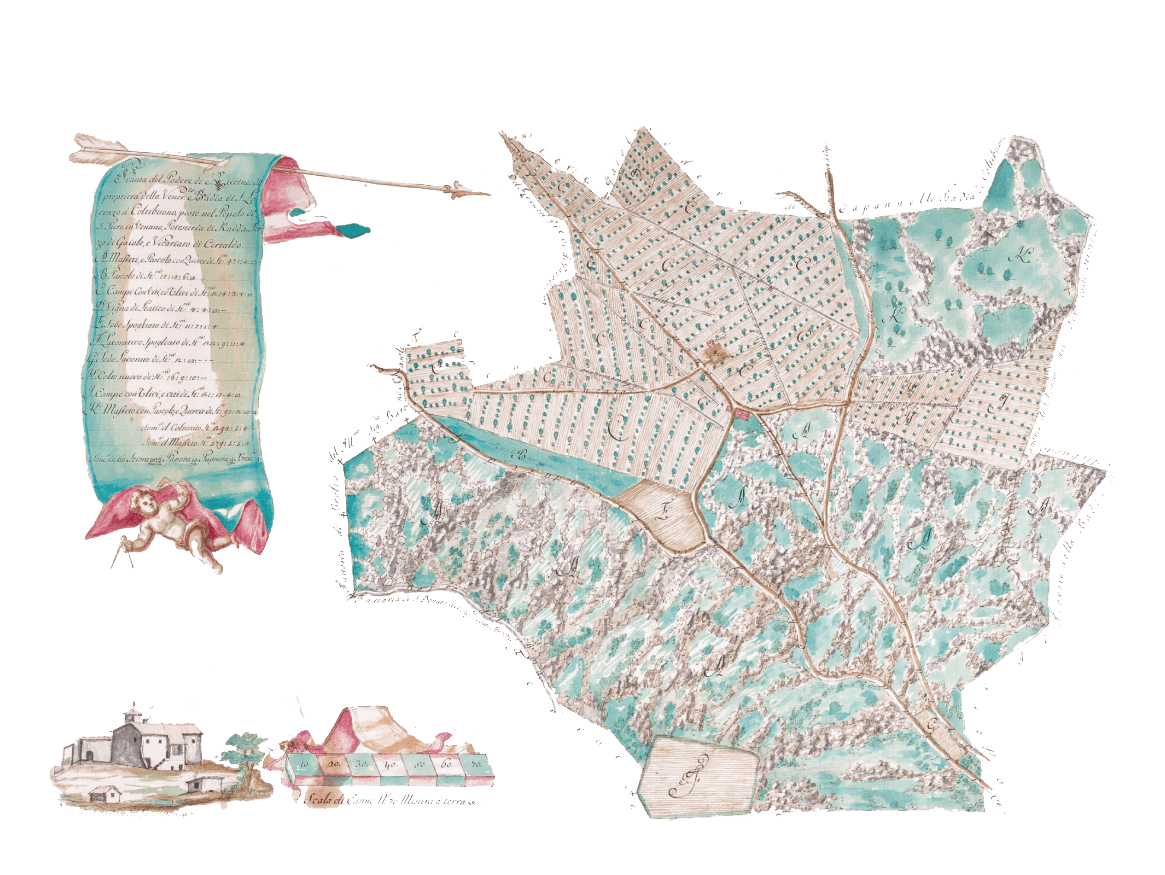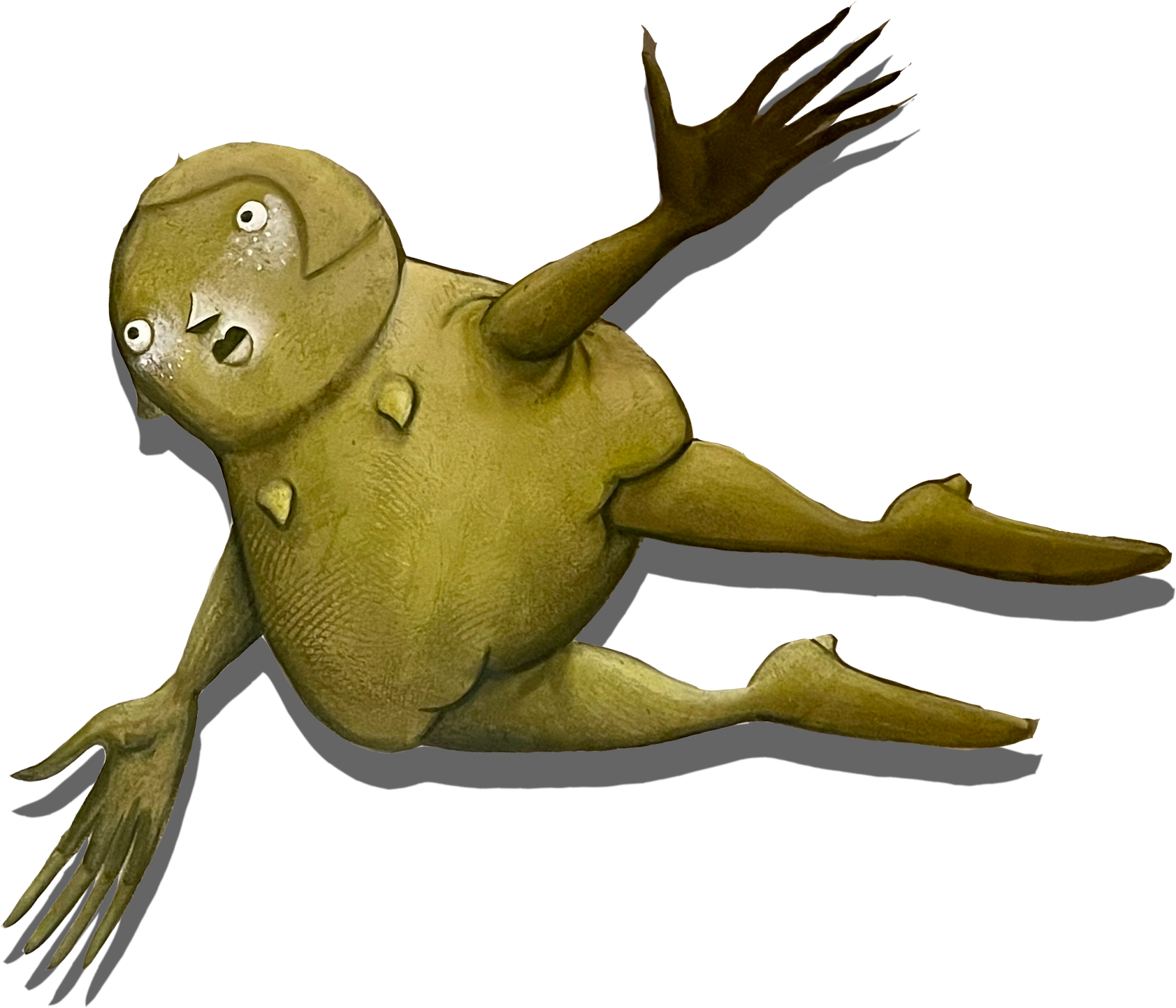 Origin
From as far back as the 12th century we can find references to the place name 'Riecine' in the maps of the Abbey of San Lorenzo a Coltibuono. The first ever reference dates back to December 1112 in the abbey archives which state that through an exchange, the monastery came into possession of several pieces of vineyard «in Camprato, in Riecine, in San Donato in Perano and elsewhere».
Chapter 2
THE TEAM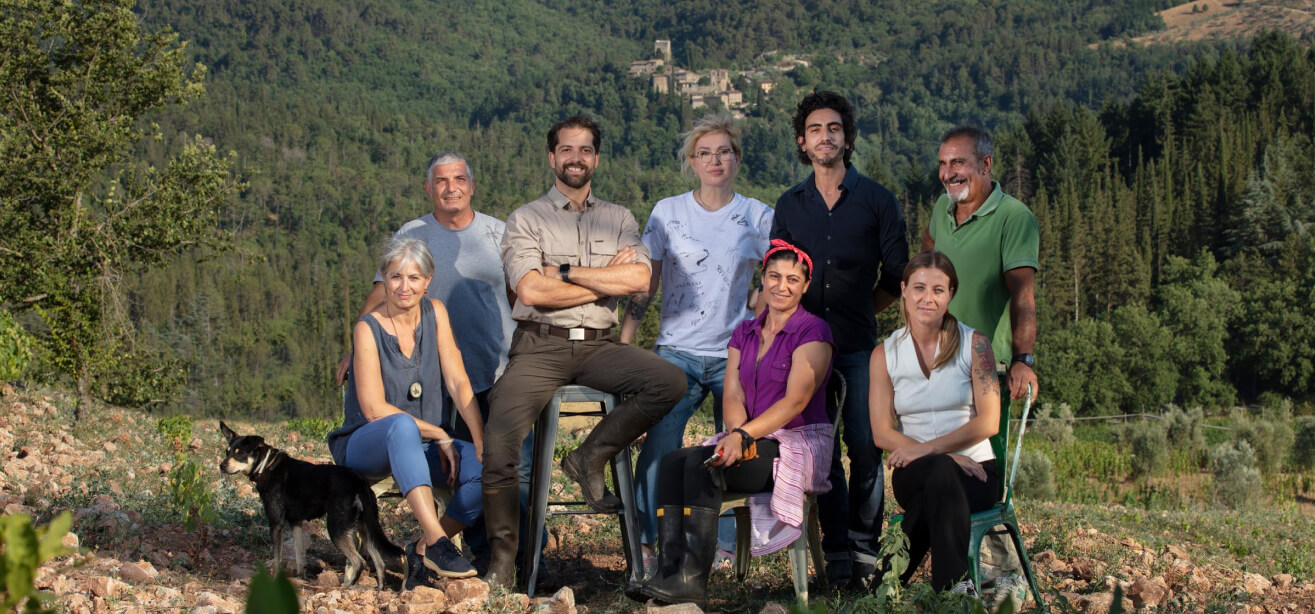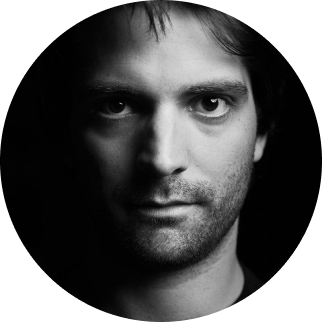 Alessandro Campatelli
Director and Oenologist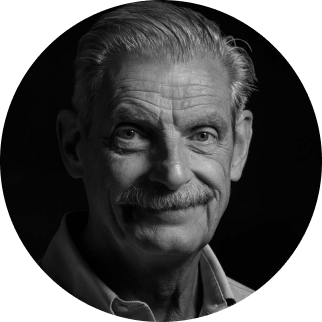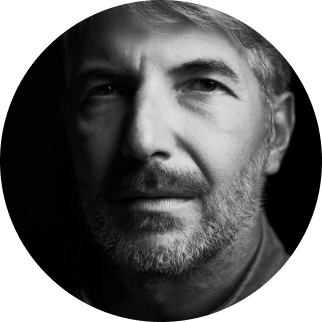 Palmiro Muscogiuri
Deputy Director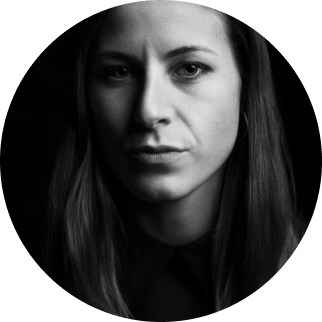 Elisa Gramaccioni
Commercial Manager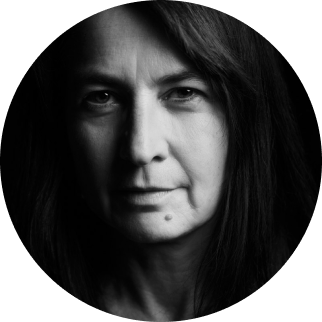 Monica Mezzadri
Administration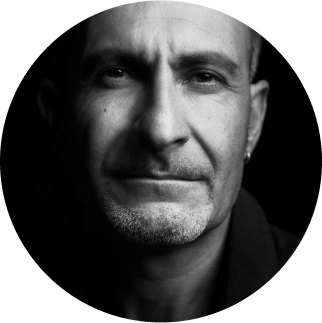 Mario Valisena
Vineyard manager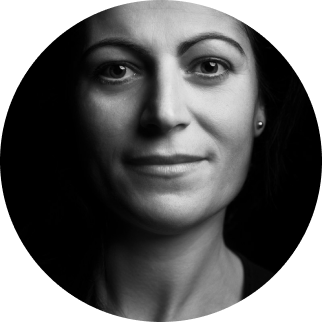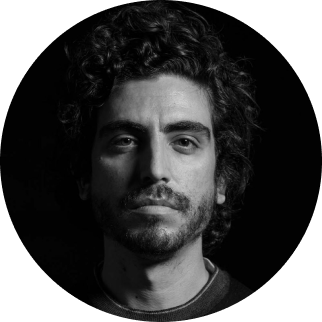 Iacopo Casadio
Hospitality, Marketing Communications manager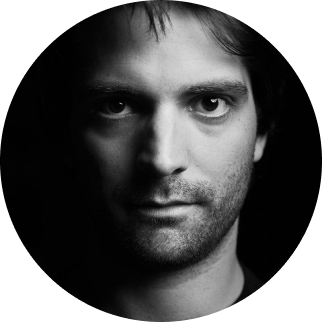 Alessandro Campatelli
Director and Oenologist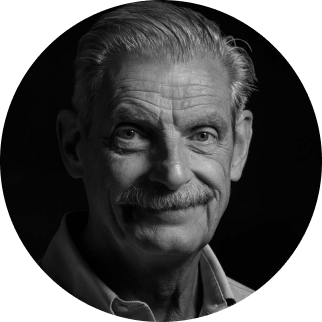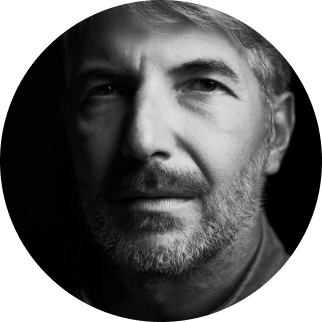 Palmiro Muscogiuri
Deputy Director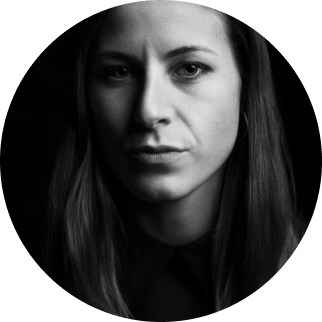 Elisa Gramaccioni
Commercial Manager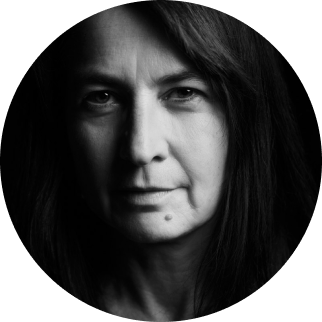 Monica Mezzadri
Administration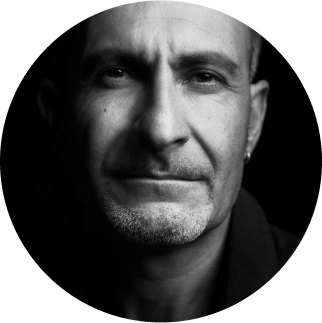 Mario Valisena
Vineyard manager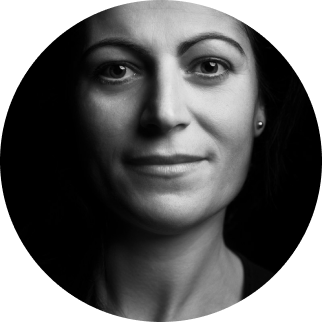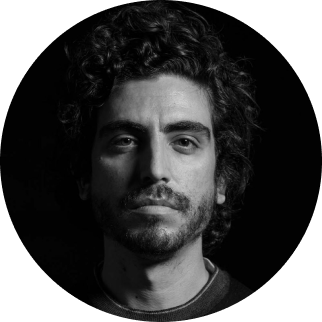 Iacopo Casadio
Hospitality, Marketing Communications manager

Chapter 3
VINEYARDS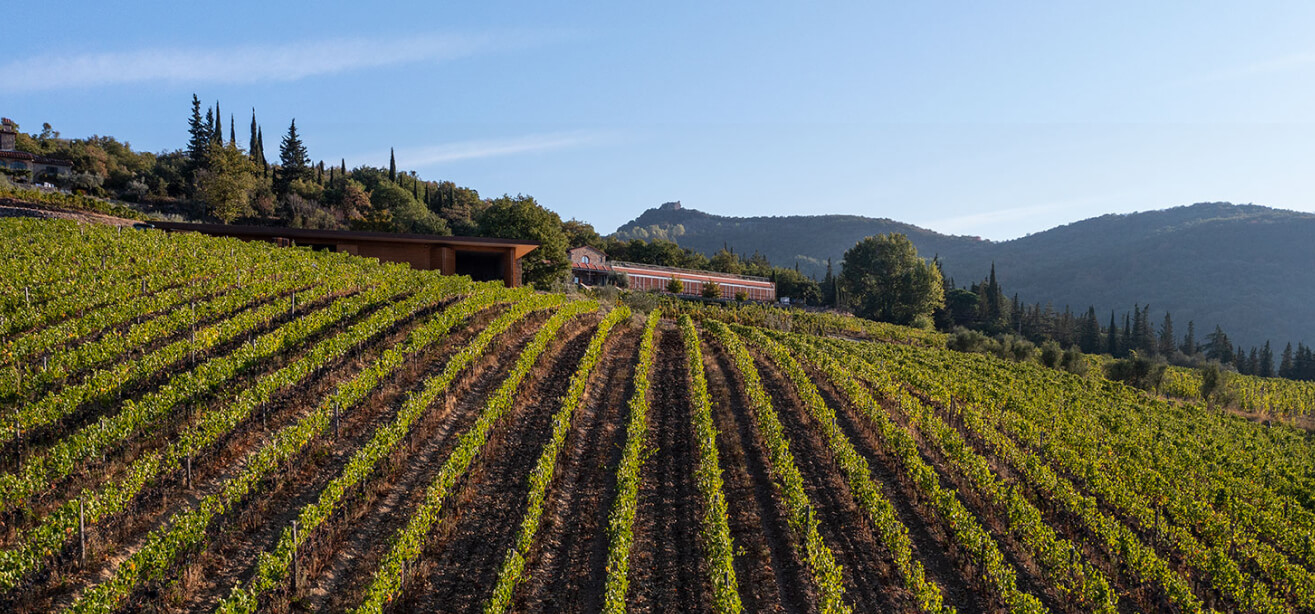 "When Baron Philippe de Rothschild plants Sangiovese, I will convert to Cabernet Sauvignon."
John Dunkley
From an agronomic point of view, all Riecine vineyards have been cultivated under an ICEA-certified organic regime since 2006. They all have plant covers, weeding between the rows is purely mechanical, and topping and stripping has been completely eliminated. The aim here is to tackle the increasingly severe and sudden effects of climate change: it is generally encouraged to choose natural ways to protect the soil from excessive evaporation and to protect the vines themselves from the sun's rays and increasingly high summer temperatures. Efforts are also being made to promote the settlement of native microfauna.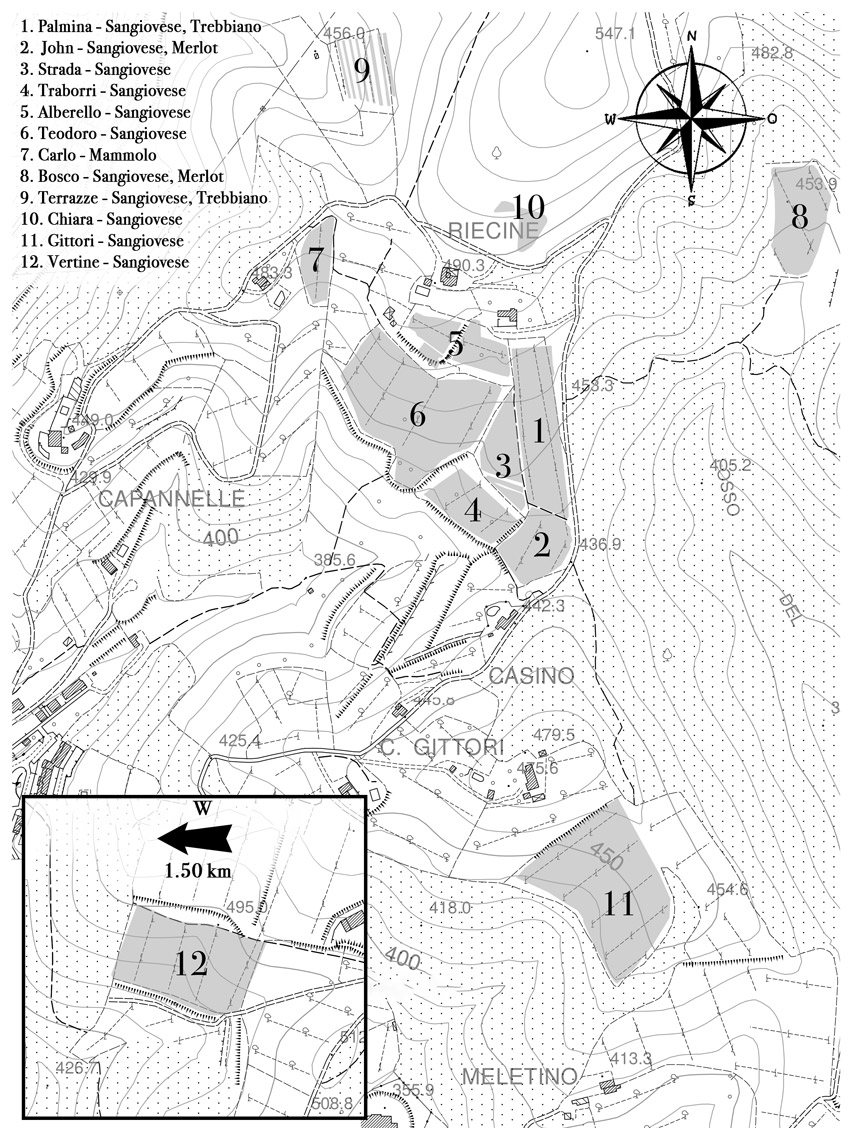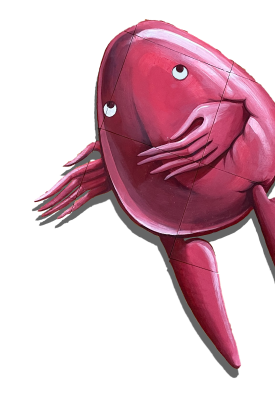 Chapter 4
SAVOIR-FAIRE
CELLAR
Riecine is a combination of what is naturally bestowed by the earth and the creative ingenuity of man. From harvest to bottling, Riecine is a wine without compromise.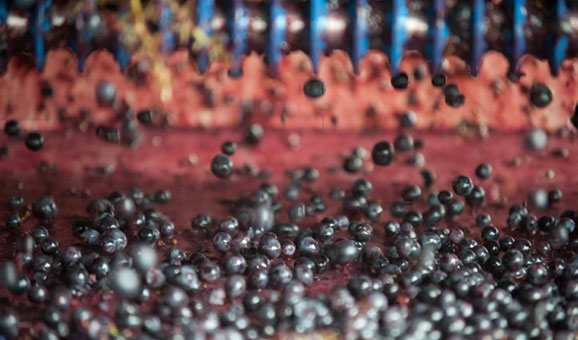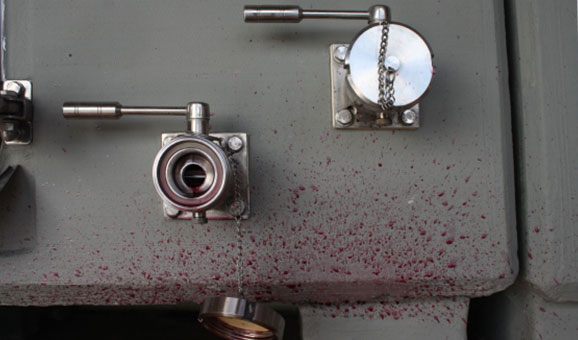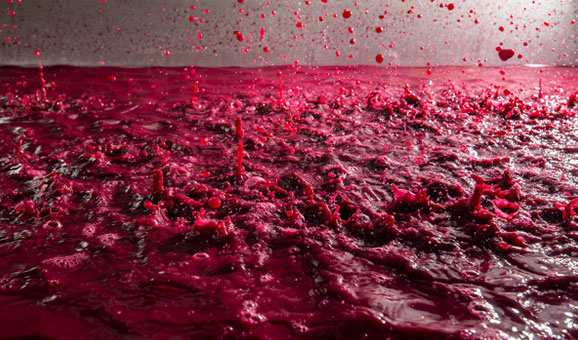 Refinement
Producing wine at Riecine means continuously striving to achieve the best possible quality. The wines pay homage to the characteristic and unique terroir of Chianti Classico and Gaiole in Chianti.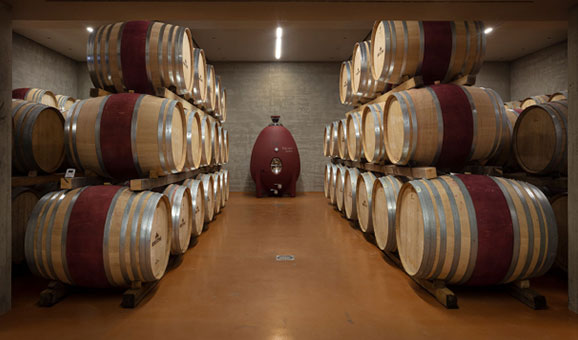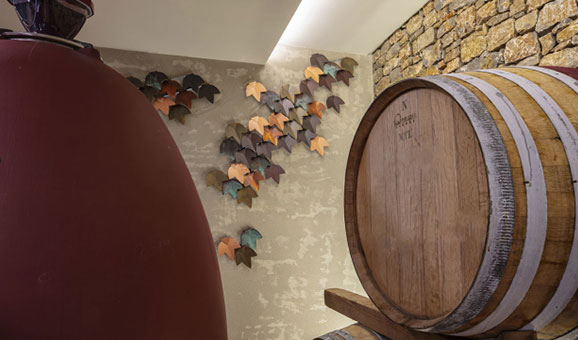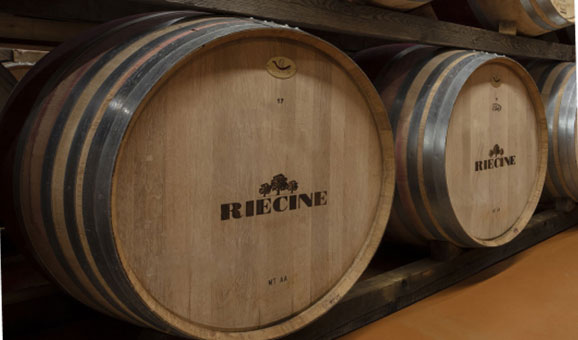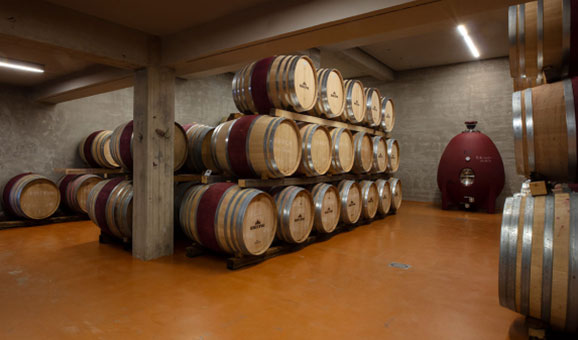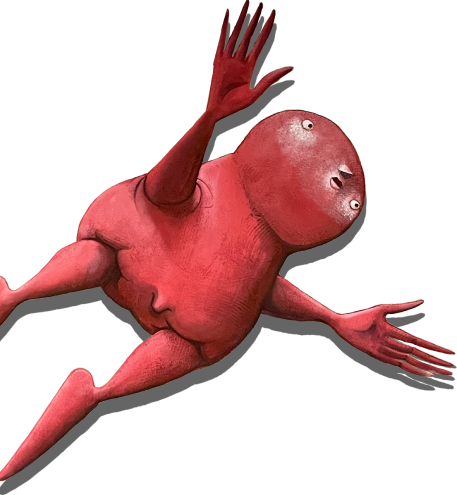 Chapter 5
THE WINES
"Every gentleman, at least once, should experience the joy of a fine Sangiovese wine."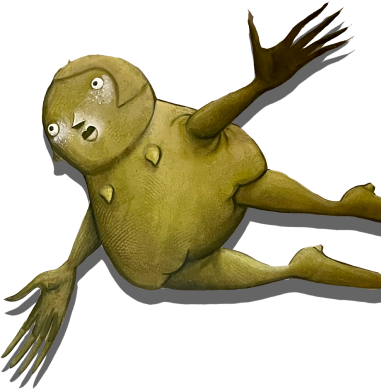 Chapter 6
HOSPITALITY
For all those who wish to visit us, we offer various possibilities.
WINE TASTING
The experience begins on the panoramic terrace where you can take in the breath-taking views over the Riecine vineyards. You will then visit the modern wine cellar and the refining room where you will learn about the history of Riecine from its foundation in 1971 up to the present day. We will then move to the tasting room to begin the tasting experience. Simply fill in the form and choose the tasting menu that appeals to you most.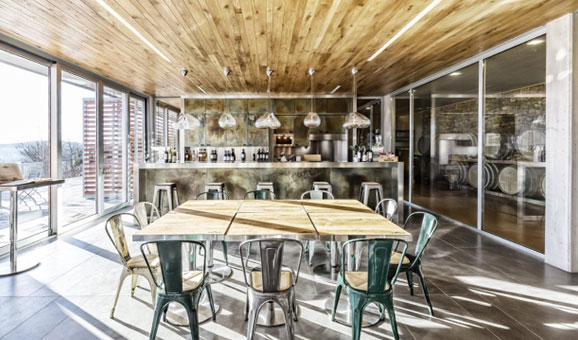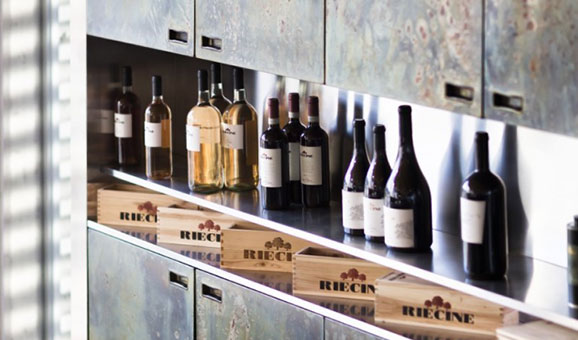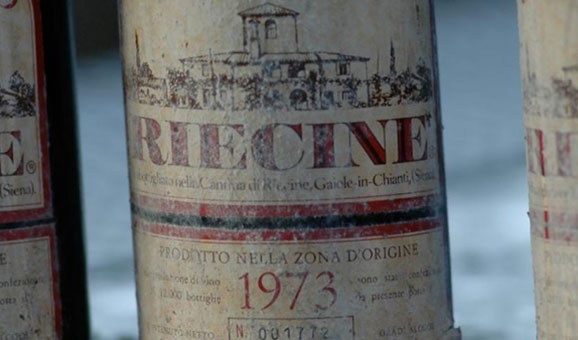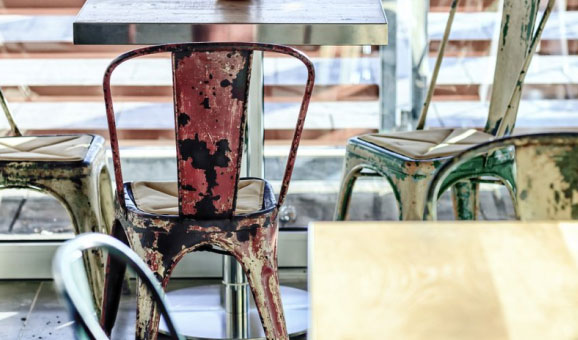 RESIDENCES
An exquisite fusion of modern and rustic styles. The residences at Riecine are in prime position for enjoying the surrounding views of rolling hills dotted with a patchwork of majestic cypress trees, vineyards and olive groves and bordered with oak forests. Located in the heart of the Chianti Classico region, these two 'cottage chic' villas offer modern interiors while preserving local traditions. The use of understated materials and tasteful artwork helps create an elegant ambiance.
Residence RIECINE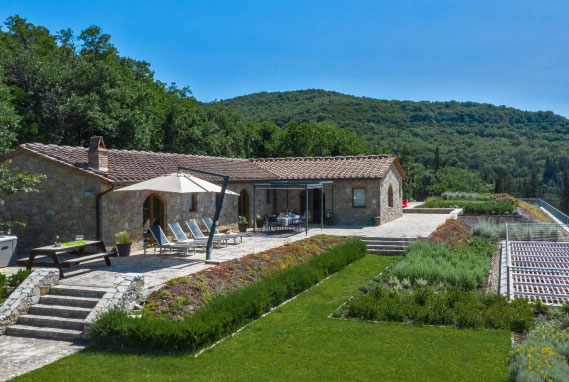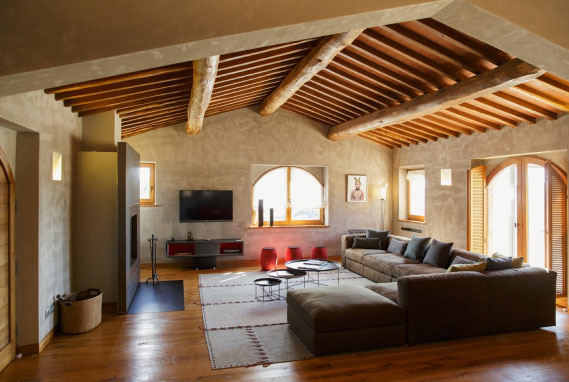 Residence CAPANNA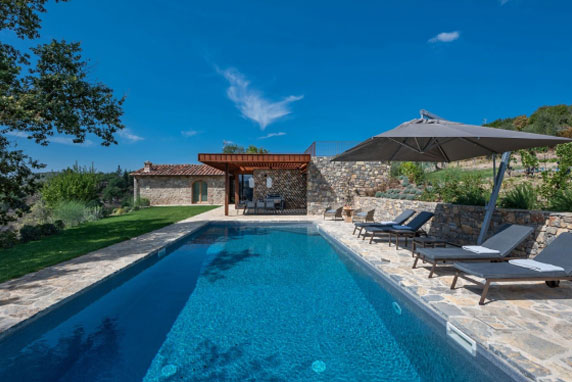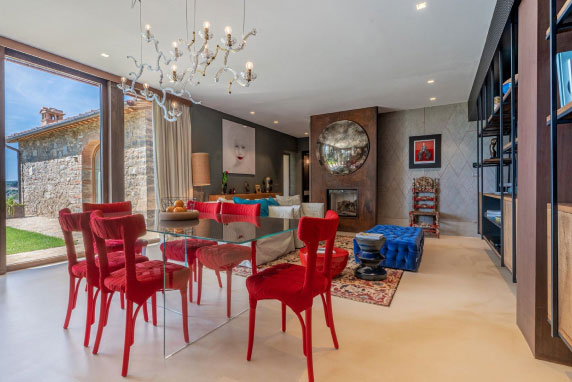 Art
Art has always played an important role at Riecine. The company prides itself on its collaborations with internationally renowned artists such as Jaume Plensa, Andrius Petkus, ZED1, Marco Tirelli, Yamamoto Kansai, Masayoshi Sukita and many others. Their works of art, which were specially designed for Riecine, have helped make the winery a truly unique space.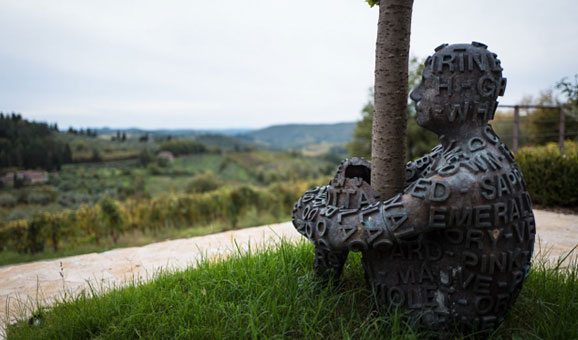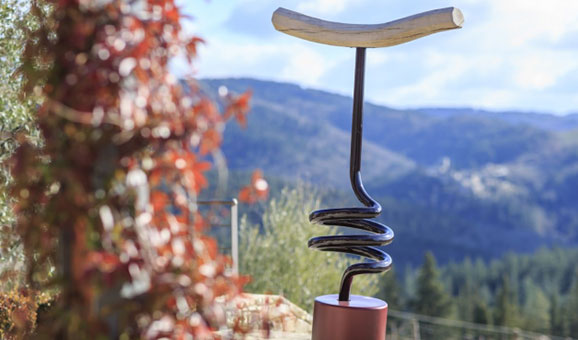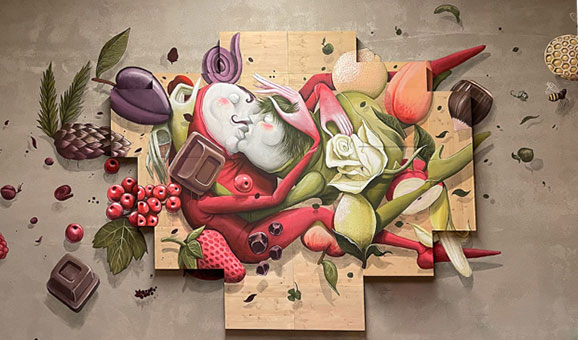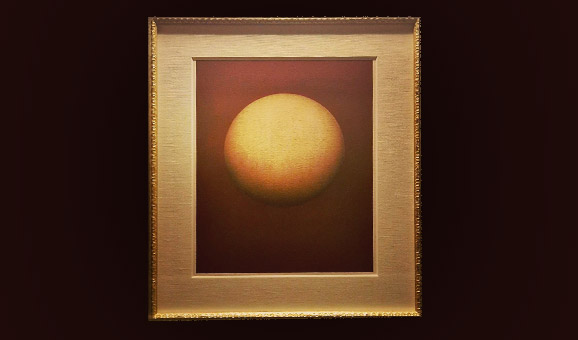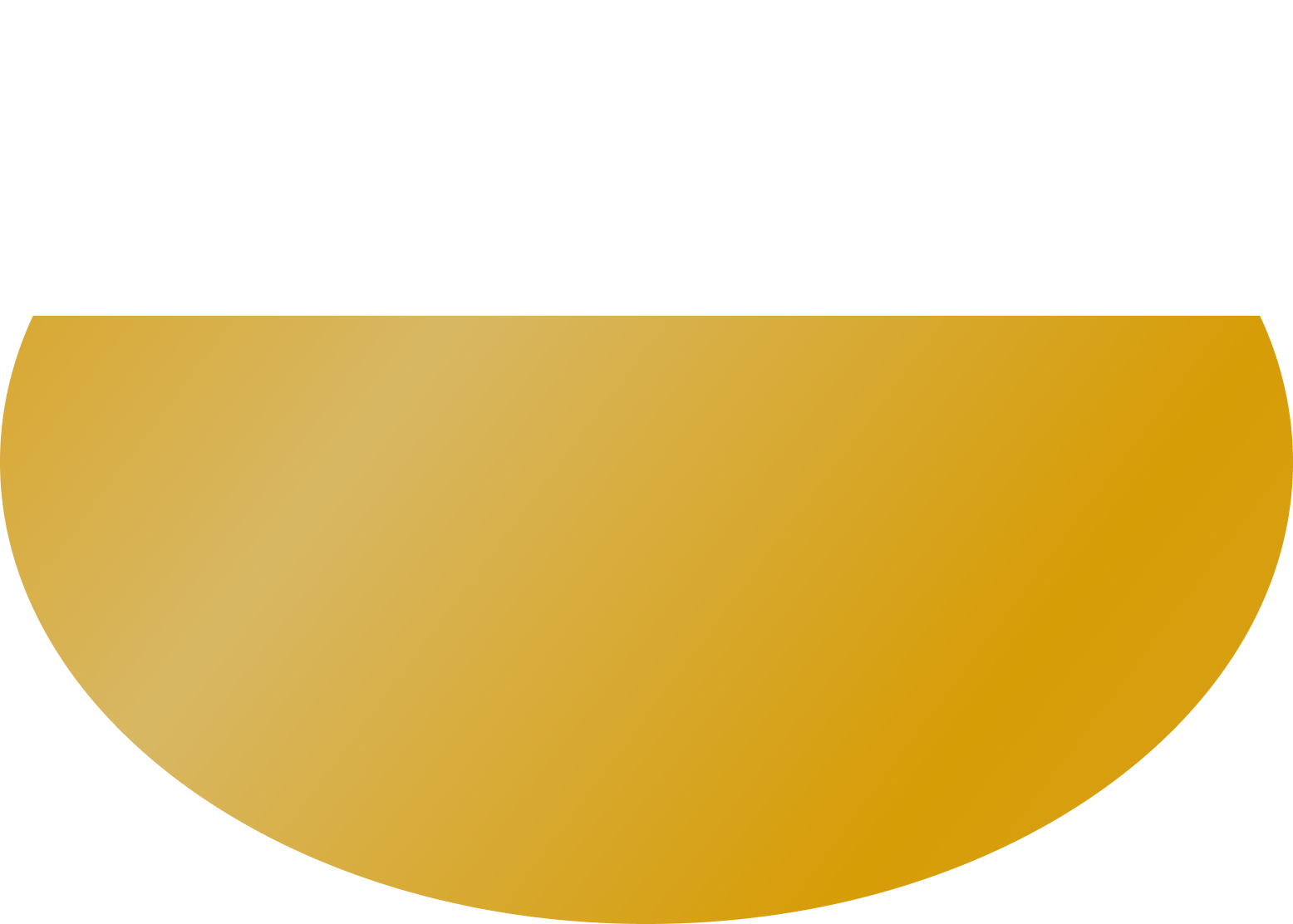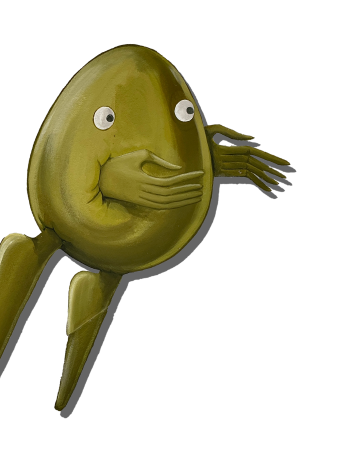 Chapter 7
SHOP ONLINE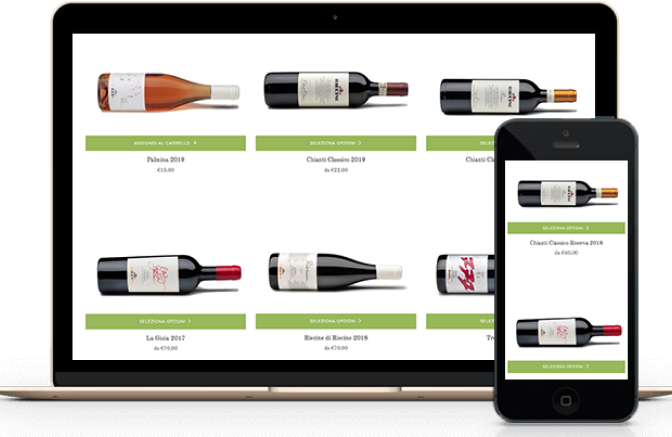 Riecine's ambition is to stay true to its past while looking towards the future: "After 10 years of working with the Riecine team, I am convinced that the company's recipe for producing successful wines is actually quite simple. Nature and the land have given us everything we need and Riecine has been very fortunate in this respect. All we need to do, and indeed all we can do, is to work hard and meticulously in the vineyards without cutting corners or compromising. We can proudly claim that we grow our own wine, instead of just 'making it'. Our team of winemakers has the best possible tools at its disposal. We follow and respect centuries-old Tuscan wine making traditions while being open to new experiments and ideas at the same time. Last but by no means least, we owe much of our success to the people who work for Riecine: thanks to their knowledge, talent, passion and commitment they create wines that we are truly proud to offer our customers."
Lana Frank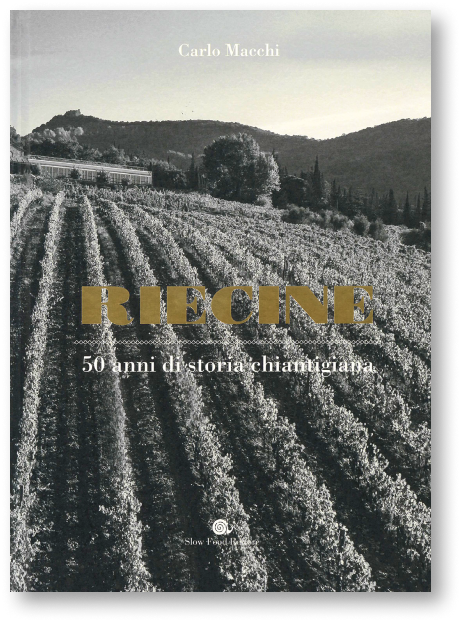 BOOK
'Head back in time to the Etruscan beginnings of the name "Riecine" and learn about a small but important Chianti company as seen throughout the history of Chianti Classico. A tale of men and women, of families, of personalities, and of wines that have made this remarkable territory famous throughout the world. This is why you will find the journey of the last 50 years narrated by the very wines that, year after year, the Riecine vineyards have created. The company's history has led to a rebirth pioneered by the very active current owners, starting with the addition of new vineyards and the adoption of modern techniques that complement the traditional ones. This has allowed a territory and a wine, Chianti Classico, which have both gone through periods of radical change, to continue to speak for themselves.'

Chapter 8
CONTACTS

Società agricola Riecine Srl,
Località Riecine, 28/b
53013 Gaiole in Chianti (SI)
Italy
Tel: +39 0577 749 098
Fax: +39 0577 744 935
Email: info@riecine.it
DIRECT CONTACTS:
CEO
Alessandro Campatelli – alessandro@riecine.it
Commercial Manager
Elisa Gramaccioni – elisa@riecine.it
Administration
Monica Mezzadri – info@riecine.it
Hospitality, Wine Tasting and Marketing
Iacopo Casadio – tasting@riecine.it
OFFICE HOURS:
From Monday to Friday, opening hours: 09.00 -17.00
Do you want to stay updated on Riecine?