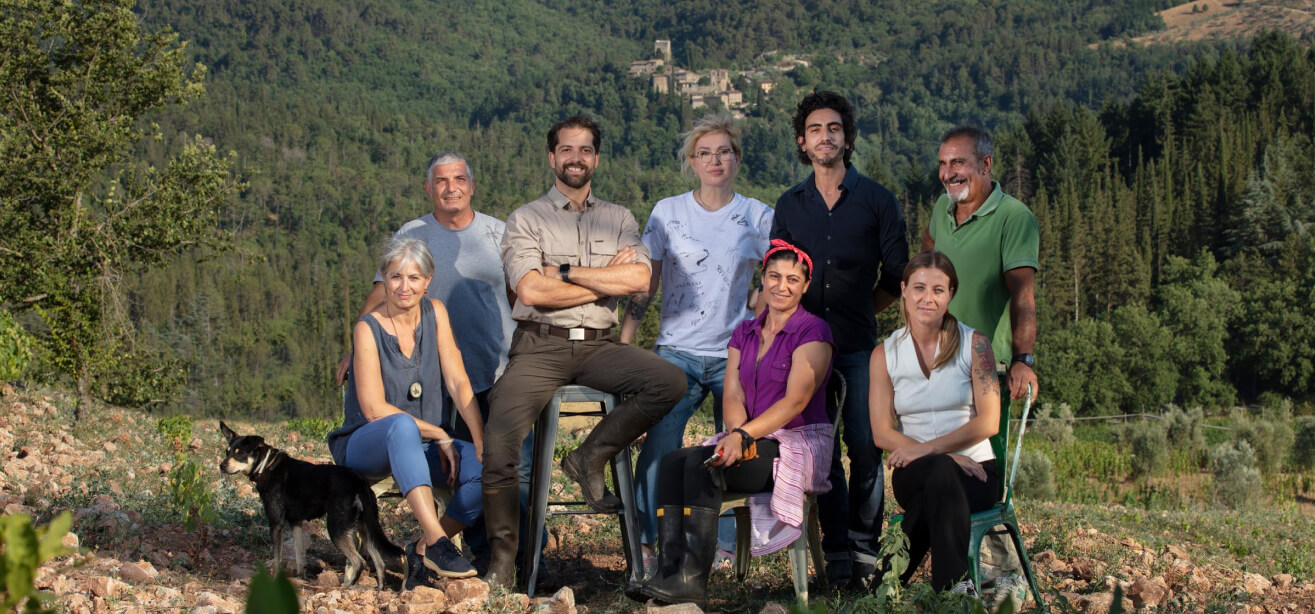 Chapter 2
The team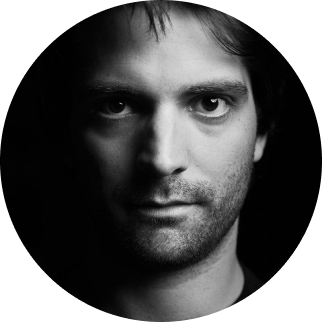 ALESSANDRO CAMPATELLI
Director and Oenologist
Alessandro is the director and oenologist at Riecine. Born in 1984, he graduated in Viticulture and Oenology from the Faculty of Agriculture at the University of Pisa. He has gained professional and teaching experience in Spain, California and Italy, during which time he worked alongside some of the industry's leading professionals such as Michel Roland, Andrea Franchetti and Randy Ullom. Over the years he has worked at some of the most diverse Italian and international winemaking companies, including Tenuta di Trinoro (Director), Passopisciaro (Board Member of the Vini Franchetti Group), Monteverro (Technical Management Assistant) and Kendall-Jackson Monterey (Assistant Oenologist). Alessandro first connected with Lana Frank in 2014 and it was just over a year later that he joined the team. He was immediately won over by the facilities: the tidiness, the cleanliness and the very special unglazed concrete tanks that took centre stage in the newly opened wine cellar. He was also captivated by the location and the landscape of a place he knew so well from the stories of his grandfather, who for years had supplied cardboard boxes to companies in the area and was a keen connoisseur of Chianti. Alessandro joined Riecine on 31 July 2015 as general manager. After just one year spent working alongside Sean O'Callaghan, he then also assumed the role of technical manager.
CARLO FERRINI
Oenologist
Born in 1954, renowned oenologist, Carlo Ferrini needs no introduction. He had been hired by the Chianti Classico Consortium to provide agronomic and oenological support to many small Chianti wineries. It was in June 1982 that, despite his young age, he was urgently called to Riecine to deal with a serious problem: a hailstorm. Not only do hailstorms damage everything on the plant, they also run the risk of destroying it permanently. Waiting for him was Palmina Abbagnano who already valued the work of the 'boy' but, nonetheless, had her doubts about what he proposed. But Carlo was adamant: "Pruning now is the only way to save next year's harvest!" After two days, she decided to follow Carlo's advice. And she did not live to regret it because the vineyard not only recovered completely for the following year but also managed to yield some grapes in the harvest. Carlo returned to Riecine in September 2016 and it was like he never left. He still performs the role of technical advisor, or 'patriarch', as the cellar workers jokingly call him. His in-depth knowledge of the vineyards and wines of Riecine, combined with his love for the company, makes Carlo the perfect link between past, present and future.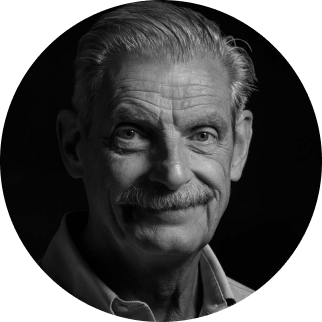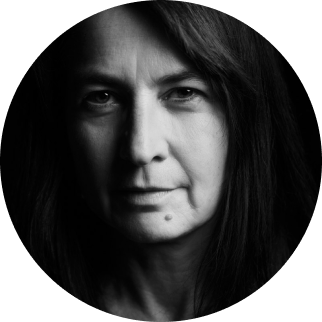 MONICA MEZZADRI
Administration
Monica Mezzadri has been working at Riecine since 2005. Originally from Milan, and with a degree in Literature specialised in linguistics, Monica moved to Tuscany for love, where she now manages the company's administrative activities and develops international relationships. When she arrived, Riecine was owned by Gary Baumann and Sean O'Callaghan. Her passion for wine has grown over the years and Monica is now responsible for accounting, inventory, transport and payments. She speaks fluent English.
ELISA GRAMACCIONI
Export Manager
With a family from the Acqualagna area of Le Marche, Elisa was born and lives in Arezzo but obtained a Law degree in Bologna. She also has an AIS Diploma and a master's degree in Marketing and Management for Wine Businesses. In 2013, she became an Export Manager at the Bibi Graetz winery. For the past four years she has been working as Sales Manager at Riecine.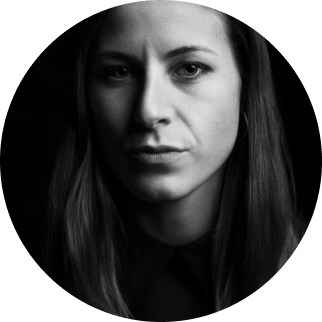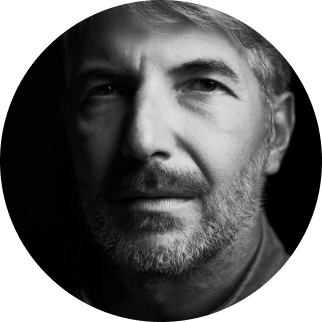 PALMIRO MUSCOGIURI
Deputy Director
Originally from San Pancrazio Salentino, the land of primitivo and negroamaro, Palmiro moved to Tuscany for his studies. He graduated in agri-food economics and policy, then completed a master's degree in marketing and management for agricultural companies. He joined Riecine in 2013 and is now the 'official' master of all: from the vineyard to the cellar and warehouse, he is a man of many talents. However, he mainly takes care of shipping and winemaking records.
MARIO VALISENA
Vineyard manager
Mario Valisena is originally from the province of Salerno and has lived in Tuscany for almost 30 years. His passion for wine dates back to childhood: his family has always cultivated Aglianico vineyards and, just like the vine, Mario has a strong character which he has brought to the Chianti Classico. When he speaks about the vineyard, he always emphasises his preference for the guyot system, where the grapes are better distributed than in the case of capovolto (bow-trained) vines. This is completely in line with Alessandro's opinion, since capovolto, along with the cordon system, was abandoned years ago. The pursuit of quality does not stop at pruning choices, but continues throughout the season: interventions in the vineyard are limited to what is strictly necessary- there is no topping and early leaf removal. In fact, these practices have been completely abolished in favour of a leafy wall that is very useful in the face of increasingly hot summers.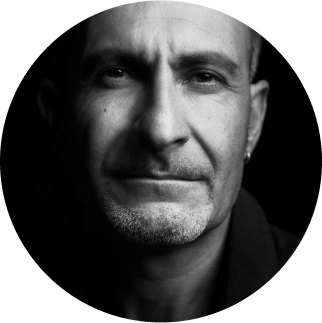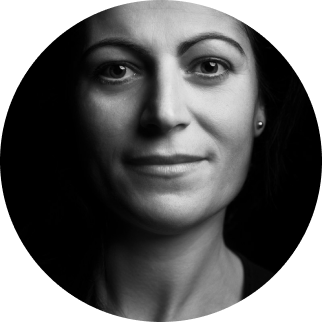 ILDA ROCI
Vintner
Klorilda Roci, aka Ilda, arrived in Tuscany from Albania in 2000. She used to live in the Albanian countryside but, even so, found Chianti to be very different. In fact, she explained that at first, she was slightly afraid of the region's vast expanses of woodland. She first stepped foot in Riecine in 2005 and she has not moved since, nor does she dream of doing so. She is now the cellar master and is so passionate about her work that she finds it too difficult to choose a time of year she prefers. As someone who has been with the company since 2005, she, like Monica, has seen it go through many changes and is very proud of the spacious cellar where everything runs much more smoothly. As she speaks, I realise that her happiness has a lot to do with working alongside Sean O'Callaghan, Carlo Ferrini and Alessandro Campatelli. She recognises that she has learnt a profession and hopes to continue to expand her knowledge in the years to come.
IACOPO CASADIO
Hospitality and Communication
Iacopo is originally from Brisighella in Romagna. He has a Law degree from Bologna, a master's degree in Food and Wine Law (also from Bologna), and a master's degree in the management and marketing of wine companies from Florence. He is an AIS sommelier and taster and has obtained the WSET level 2 qualification in preparation for the third level. He works as hospitality manager and is in charge of the company's Marketing Strategy, PR, Hospitality and Communication, including the social and corporate website.